Once a day...with a magnifying glass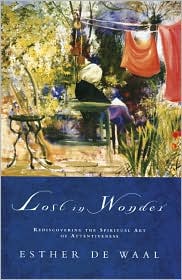 I am reading a book called, Lost in Wonder: Rediscovering the Spiritual Art of Attentiveness by Esther De Waal. In it she suggests that once a day, we should look at something - anything - through a magnifying glass.
Stop...
Look...
Linger...
She writes, "It is important to use whatever comes to hand and stay with it, be happy with it whatever it may be, do not try to find something better somewhere else" (7).
Why do this? She wants us to practice being present - alive in all our senses in the ordinary, daily parts of our lives. Living with open eyes and open ears - they often open the heart as well! Let me know what you see!